Start pre-gaming now! Join The Machine, Bert Kreischer, for an unrivaled party experience on the high seas, Fully Loaded At Sea! Sailing October 27-31, 2023 from Miami to Great Stirrup Cay and Nassau, Bert has invited some of his best buds for an unforgettable good time. Enjoy four days of stand-up comedy, live podcasts, late night music performances, and even opportunities to hang with your favorite comedians at the top of their game!

On board Norwegian Pearl you can socialize all day & night with delectable dining options, or take advantage of NCL's world class spa services. The party is sure to erupt on the exclusive white sand beaches of Norwegian's private island, Great Stirrup Cay. Then you can decompress with a day of beach lounging or an invigorating shore excursion in Nassau.

Grab your friends, family and a bottle of sunscreen and let's share some laughs in paradise!
Ahoy, Vacation!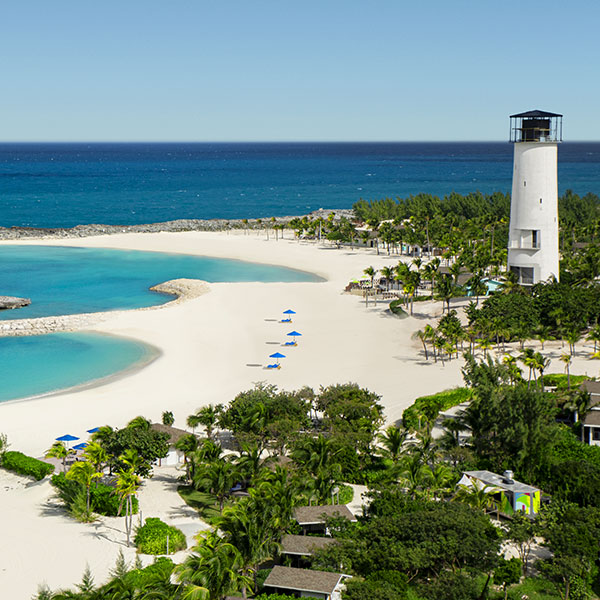 Saturday, October 28, 2023
It's our own private island in the Bahamas where only Fully Loaded cruisers are allowed! With its white sand beaches stretching for miles and clear blue waters it's as awesome as it sounds. Grab a snorkel, hang a hammock, or enjoy a beachside barbeque while you soak in the rays.
Bonus! Guests who purchase a beverage package will be able to use it for all-inclusive drinks on Great Stirrup Cay, too!
Shore Excursions in Great Stirrup Cay, Bahamas
Sunday, October 29, 2023
Nassau is the ultimate vacationer's paradise with its laid back vibes and perfect white-sand beaches, palm trees covered in coconuts, and refreshing, crystal-clear waters. Whether you spend the day cooling off in the ocean, grabbing a few pints at a beachside pub, or shopping 'til you drop for souvenirs at the duty-free shops, you're guaranteed to leave this happy place in the Bahamas with lots of great memories and feeling rejuvenated for a night back on board!
Shore Excursions in Nassau, Bahamas